"My greatest pleasure is connecting with people and generating business for ATS, a company that I respect. I truly love working for Josie and Jim Herndon. Like me, they have a passion for helping people."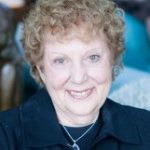 Roz Annenberg has been working with ATS since November 2007. She worked in a regional marketing capacity before taking on the role of Marketing Director in 2013. In 1990, Roz was given an award by the Governors of the State Bar of California for creating Personnel Agency for Lawyers/Paralegal/Office Help that went nationwide. In 2011, she was named Woman of the Year in memory of Victoria Smart for outstanding dedication and service to WAAT and the field of addiction treatment.
These days, Roz regularly attends ATS events and individual meetings with psychiatrists. She also enjoys the process of intake with therapists. Roz is responsible for generating attendance at ATS's informative and enjoyable luncheons as well as other wonderful events for RecoveryView.com, an important educational initiative of Villareal and Associates, Inc.